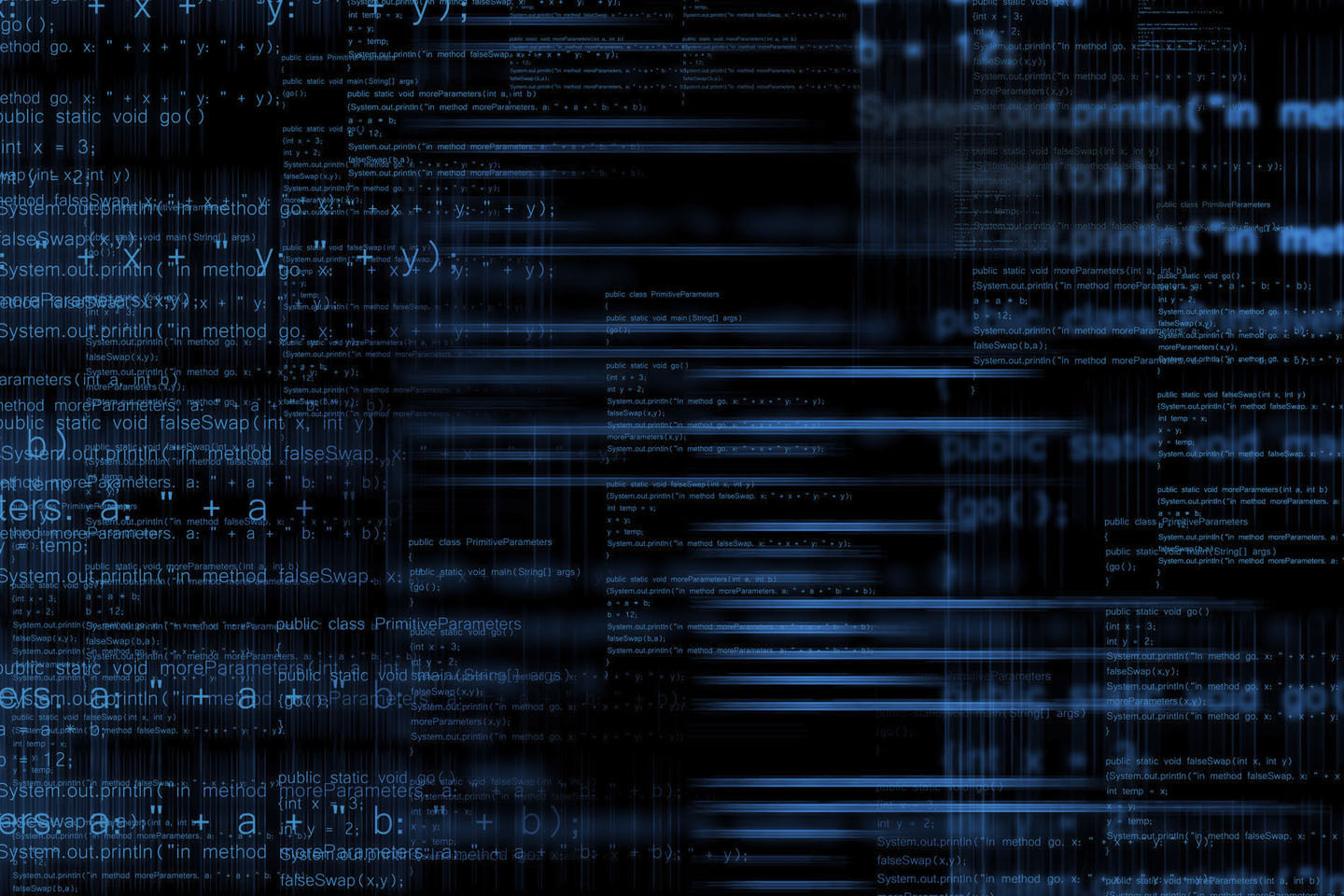 The Vision

OPPORTUNITY:
The opportunity exists at this very moment to define the next generation Superhero Entertainment using the global connectivity of densified 5G communications, the enhanced capabilities of Artificial Intelligence, and the world-scale advances in Spatial Media technologies.
Stan Lee developed three iconic superhero genres:
The Fantastic Four comic book universe
The Marvel cinematic universe
The 7th Portal quantum universe
With all game and movie production currently shut down, Stan Lee Studios is taking advantage of this opportunity to focus the industry's top talents on Stan Lee's original vision of reinventing the Superhero genre through a whole new universe of characters that are created for the quantum age: The 7th Portal.
SOLUTION:
The stage for this new medium is not just the theatre screen, television screen, computer screen, and comic books, but the entire world. It is called World-scale Augmented Reality: and while the GeoLocated games that ues it such as Ingress and Pokémon Go have broken nearly every record for monetization, revenue, and user-base adaption, they were based on the much lower performance limitations of 3G and 4G networks.
By building for the newly emerging densified 5G networks, and using the latest developments in AI Character creation we can offer much higher resolution characters that can that can step off the screen and interact with and talk with our players in a highly personal and meaningful way.
MISSION:
We intend to gamify the global stage and fill it with superheroes and characters that can draw us into their alternate worlds, take us on quests and adventures, and be our life-long companions.
Backed by the latest innovations in Artificial Intelligence, Geospatial Immersive Media and the world-changing speed of 5G, Stan Lee Studios is building a new generation of Superheroes that can step off the screen and into our audience's lives.
MARKET FOCUS:
Based on emerging technologies, GeoLocation games like Ingress and Pokémon GO have proven to be the gateways to a new age of highly profitable entertainment properties. With more than a billion downloads, they have proven that tentpole game and movie properties can help spawn massive returns well in excess of even the biggest box-office successes.
We are creating the next generation of GeoLocation properties that parallel our comic, game, and motion picture offerings. Our same AI-driven characters can be used in all of our pipelines which adds franchise continuity while dynamically lowering costs on many levels.
EXPECTED RETURNS:
Our bite out of the $200B Superhero entertainment market that Stan Lee invented will be substantial, but it will pale in comparison to our GeoLocation and AI Sidekick revenues. Those little Pokémon characters that have no interaction other than getting captured by flicking a small animated ball at them, have generated billions with little distribution, marketing or advertising costs.
Just imagine how ravenous this market is for something substantial. Imagine a Stan Lee Superhero motion picture that serves as a narrative that plays out across the face of the Earth and can be viewed by anyone with a smartphone and our app. Now imagine that you can become part of this evolving saga - how much revenue do you think that will generate?
---
SLS PowerPoint deck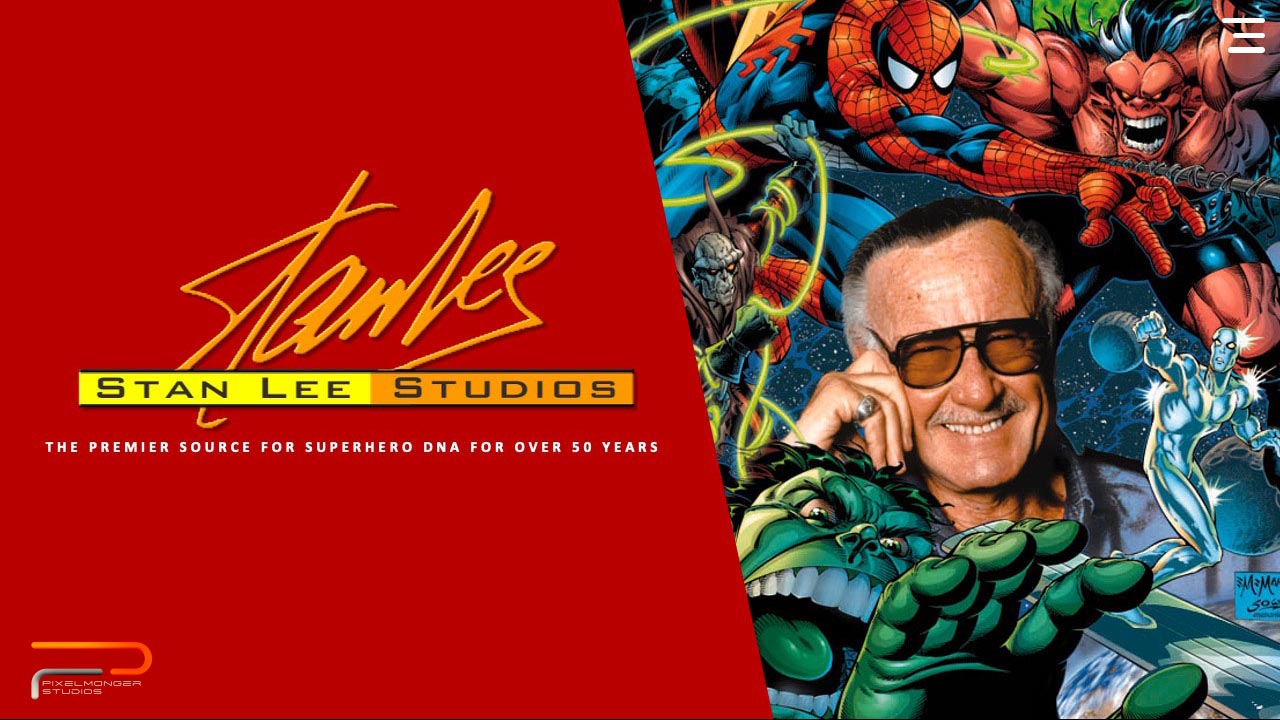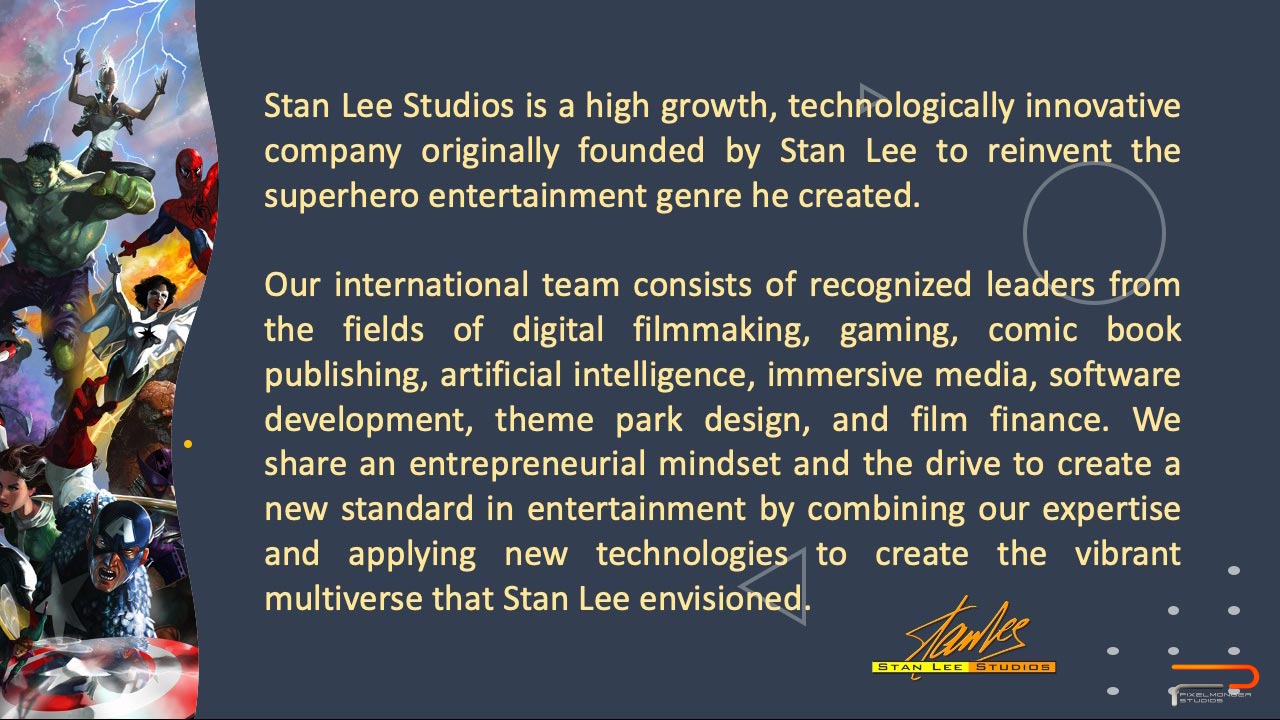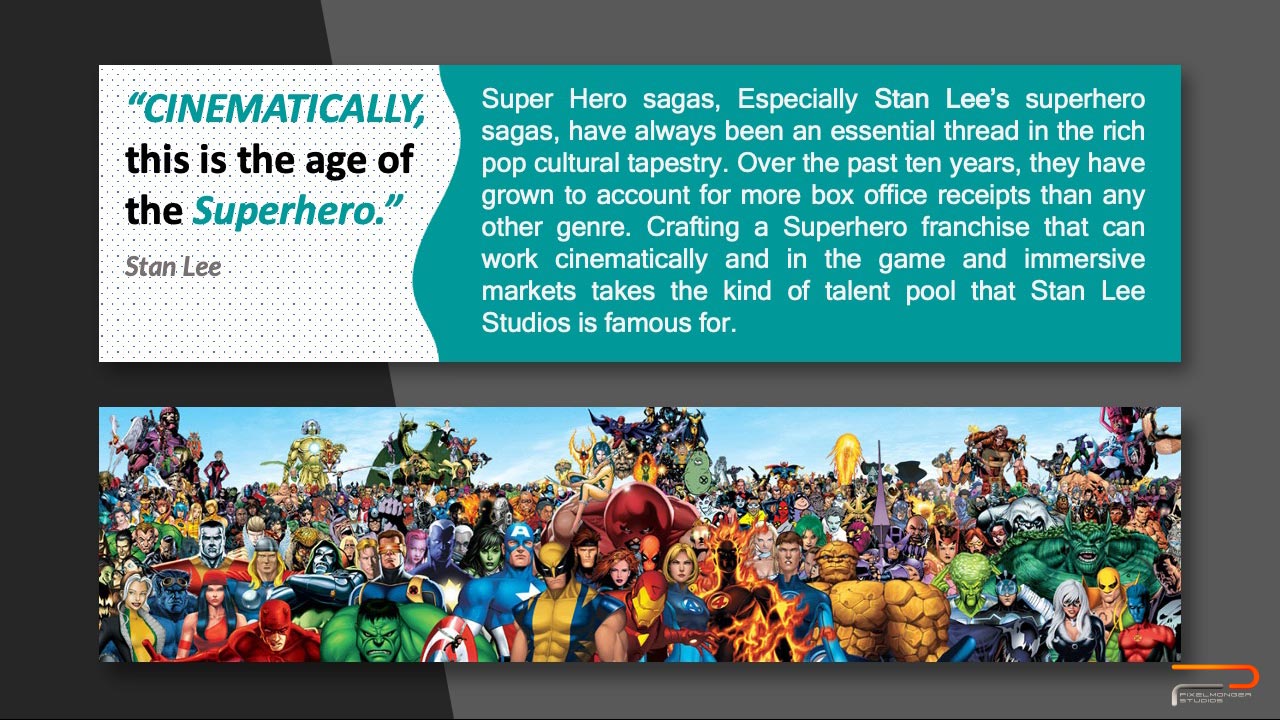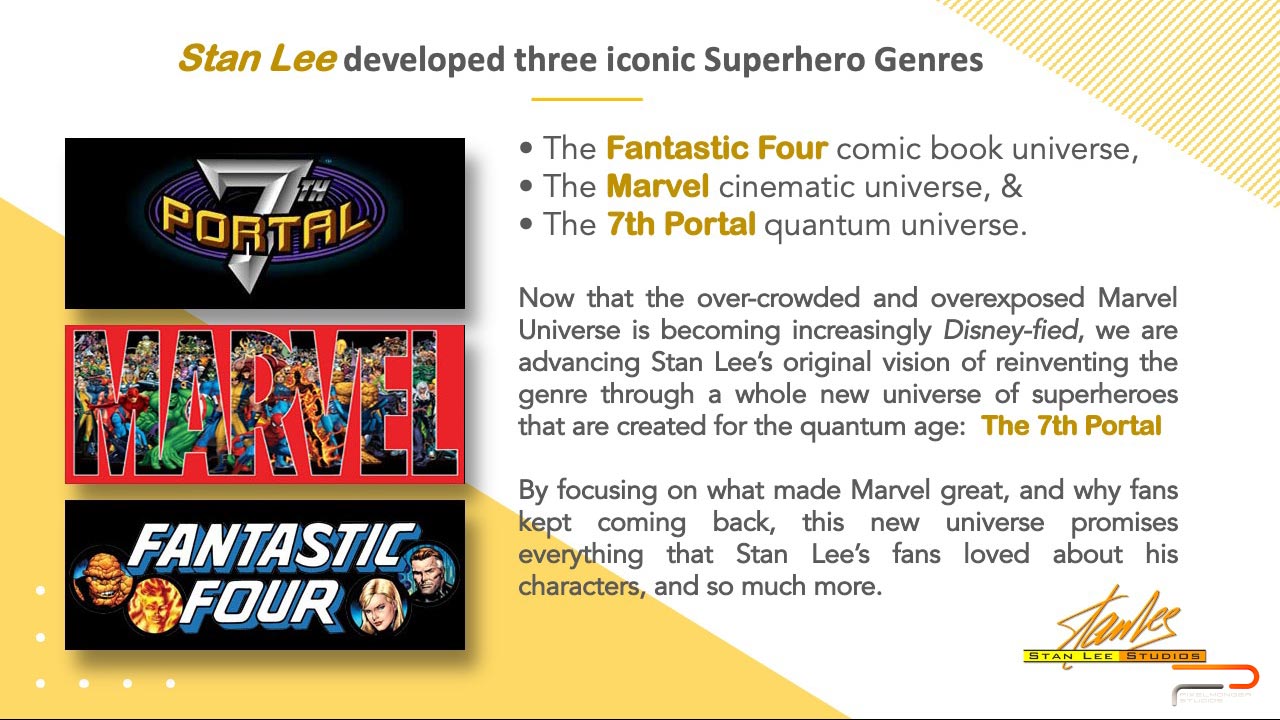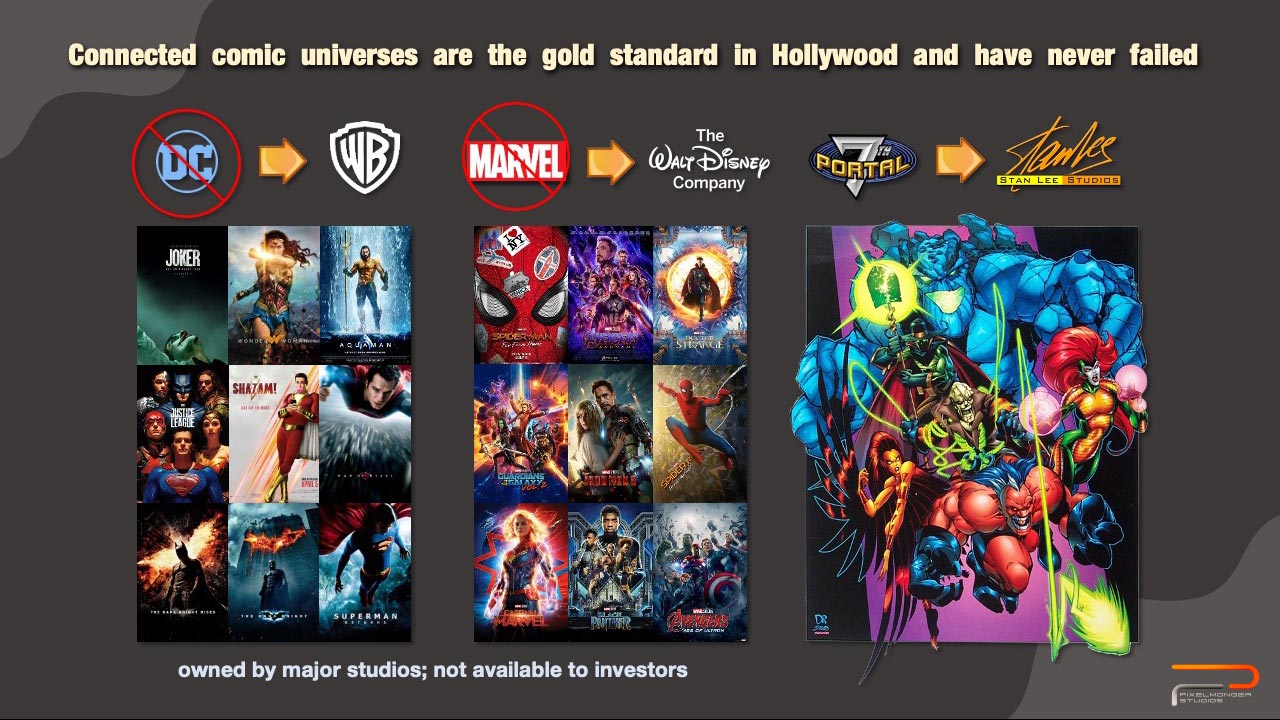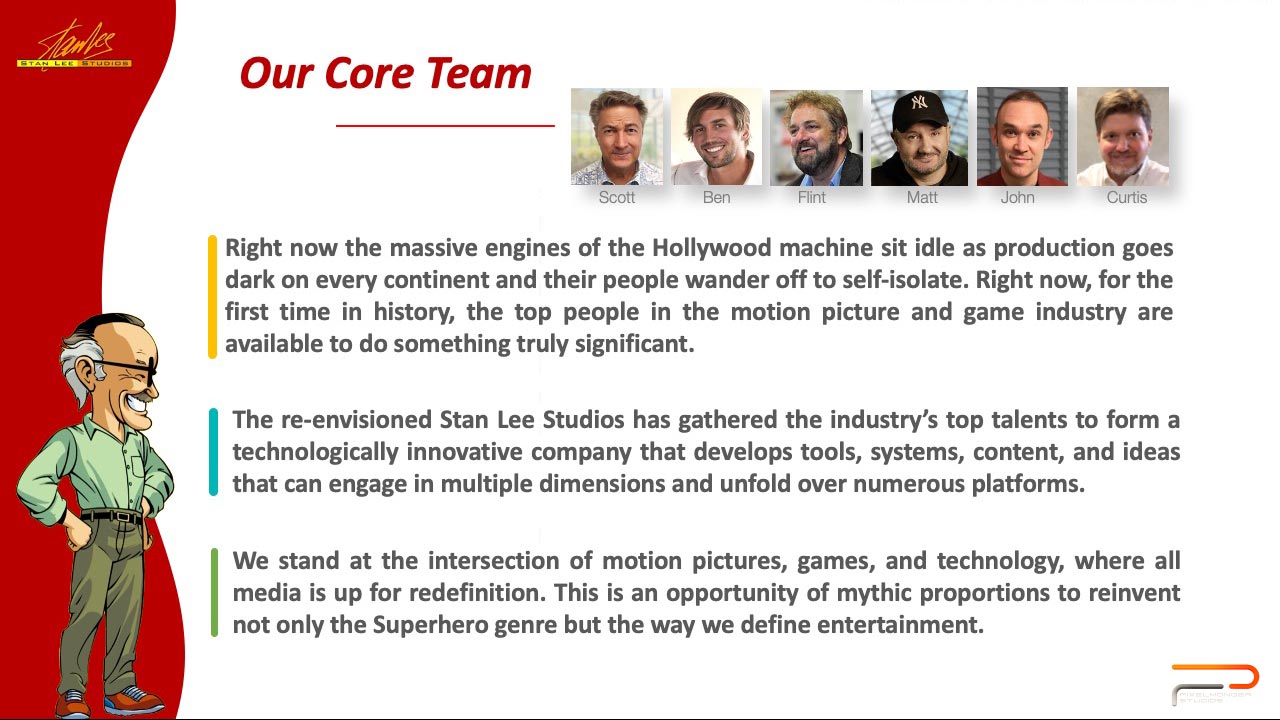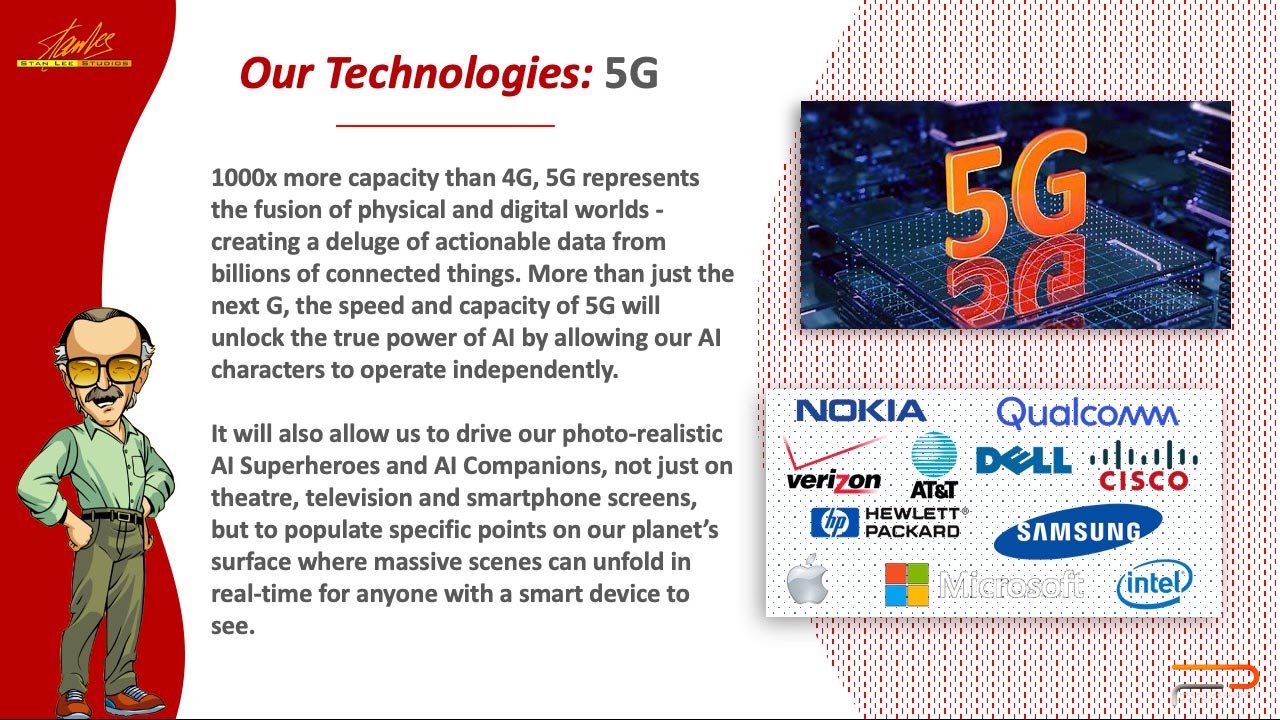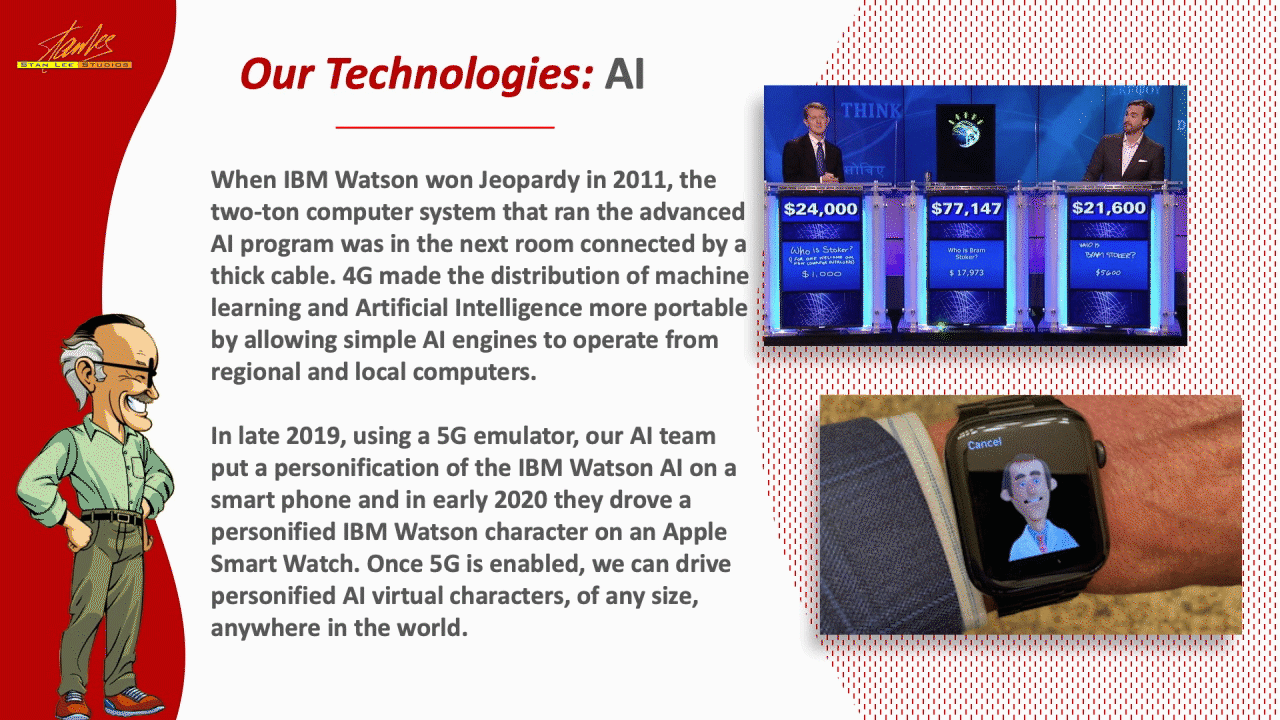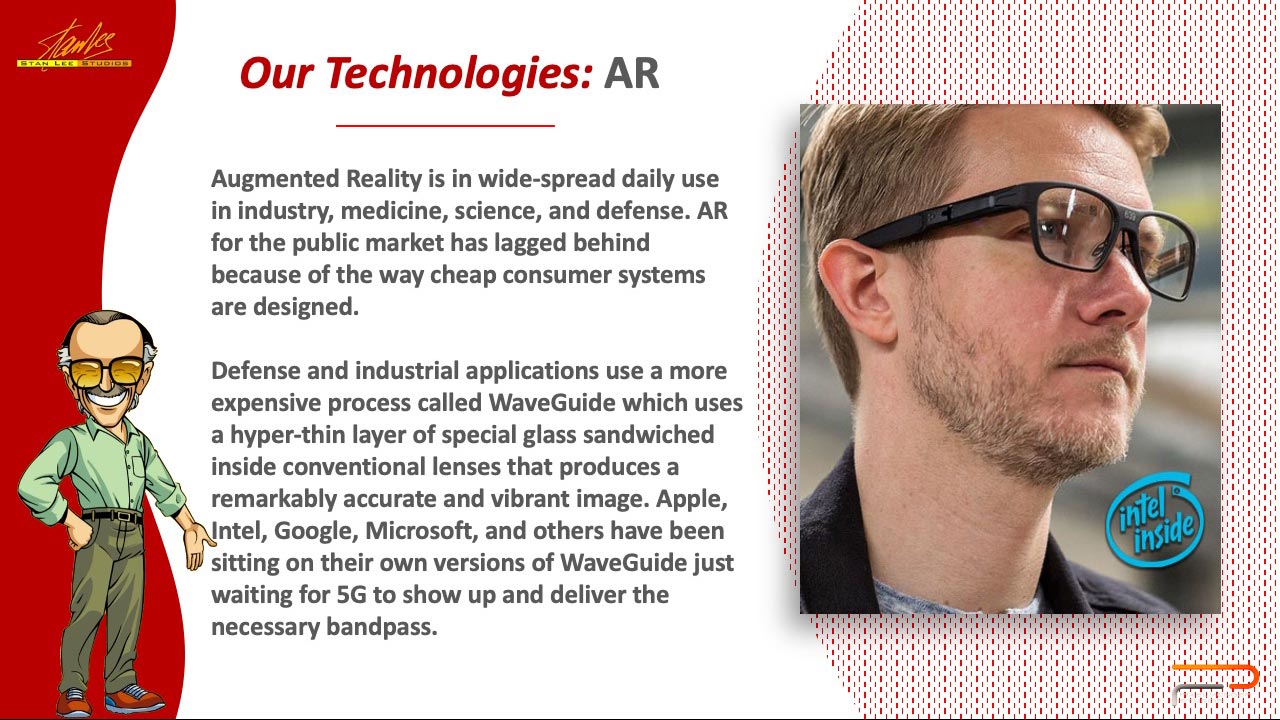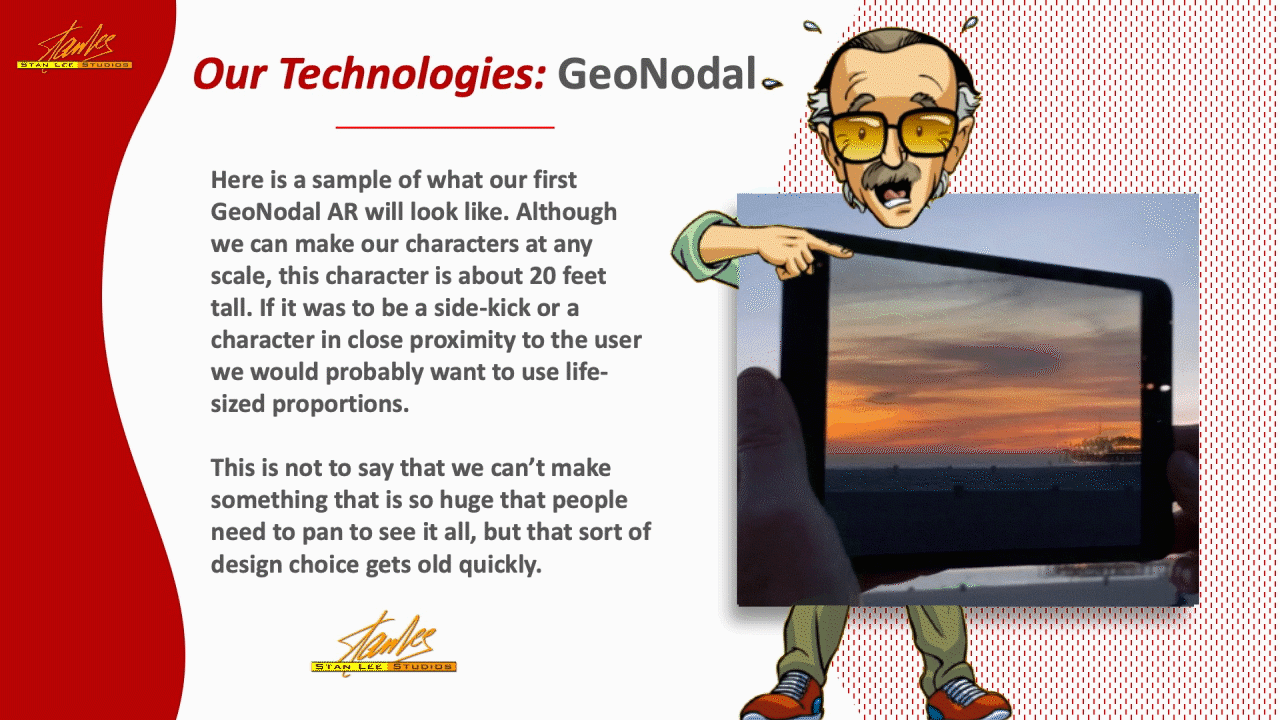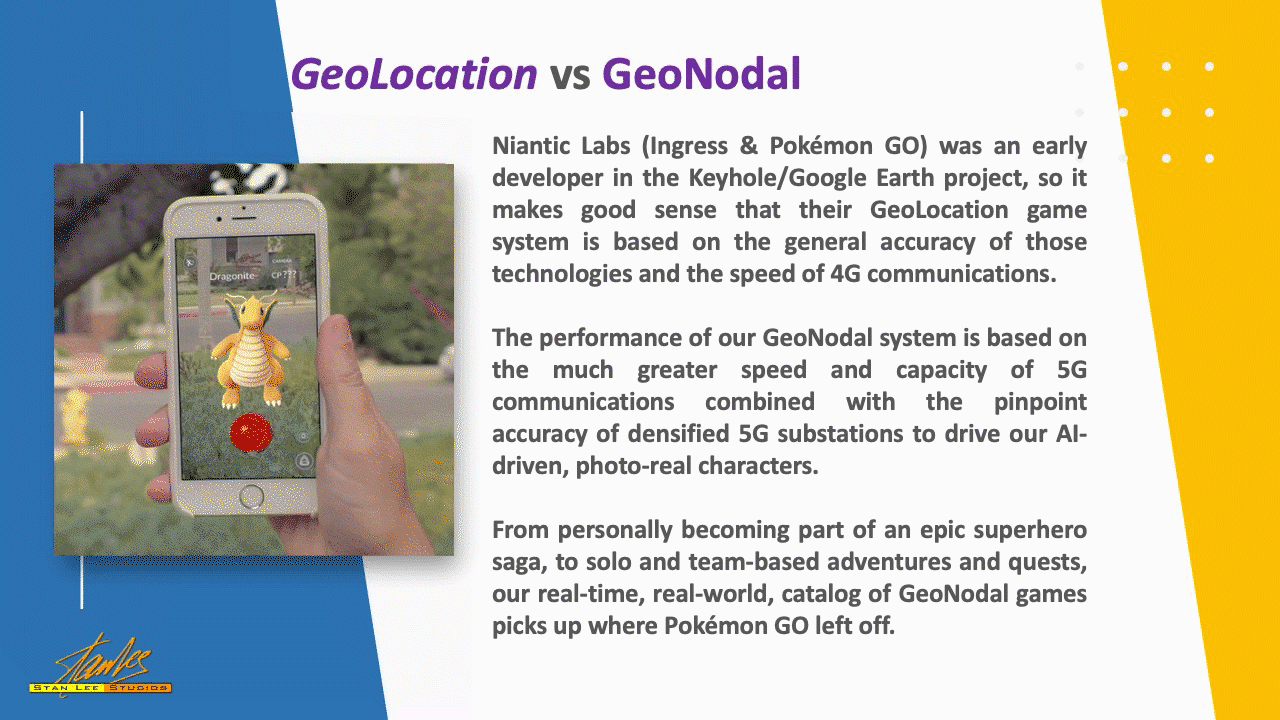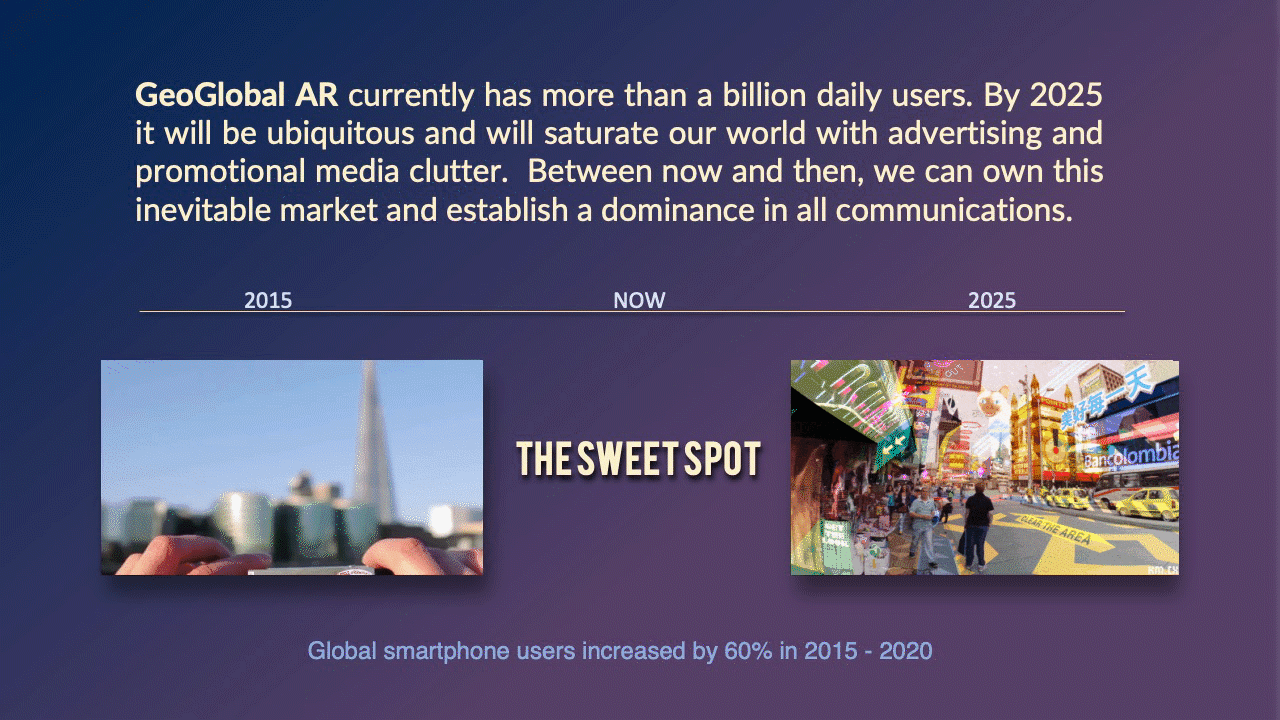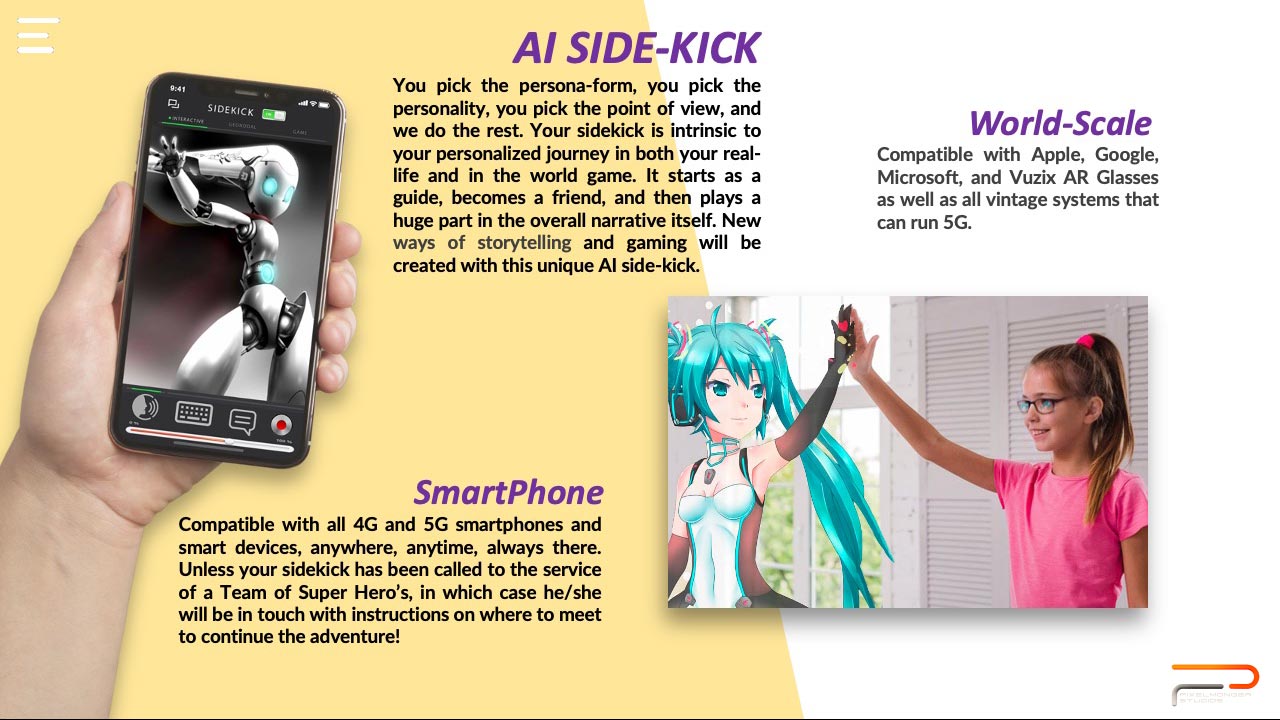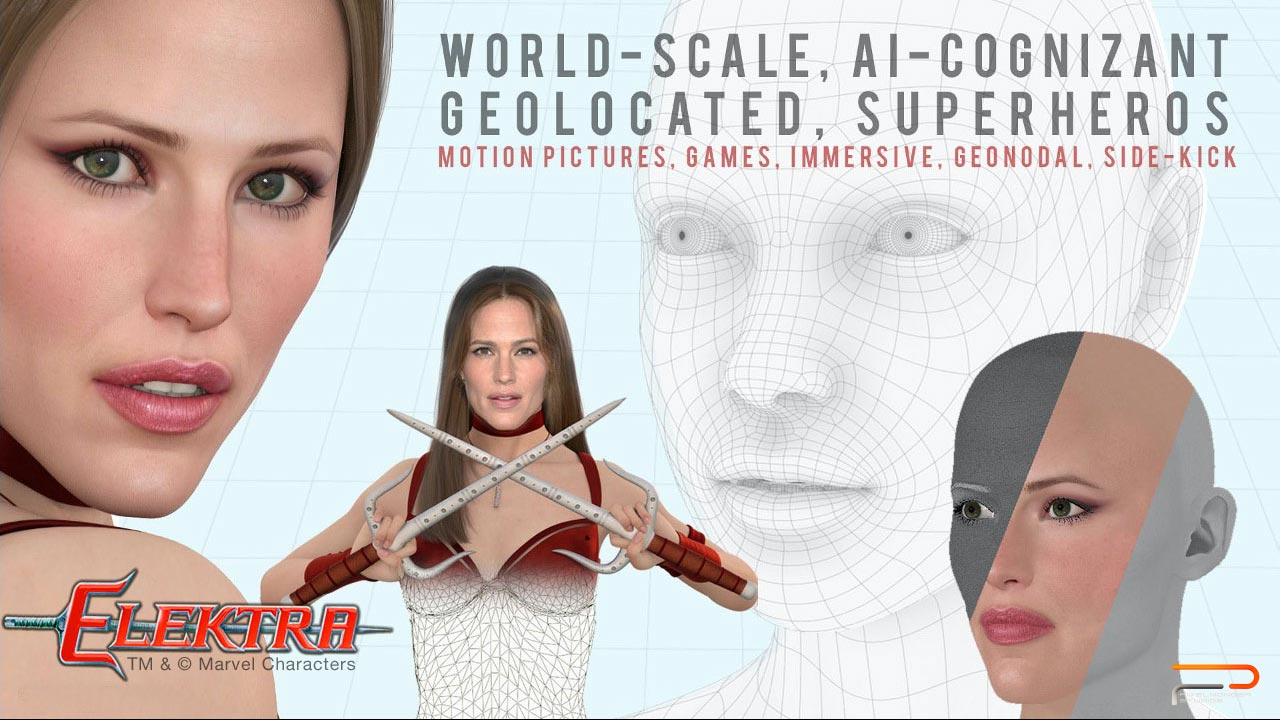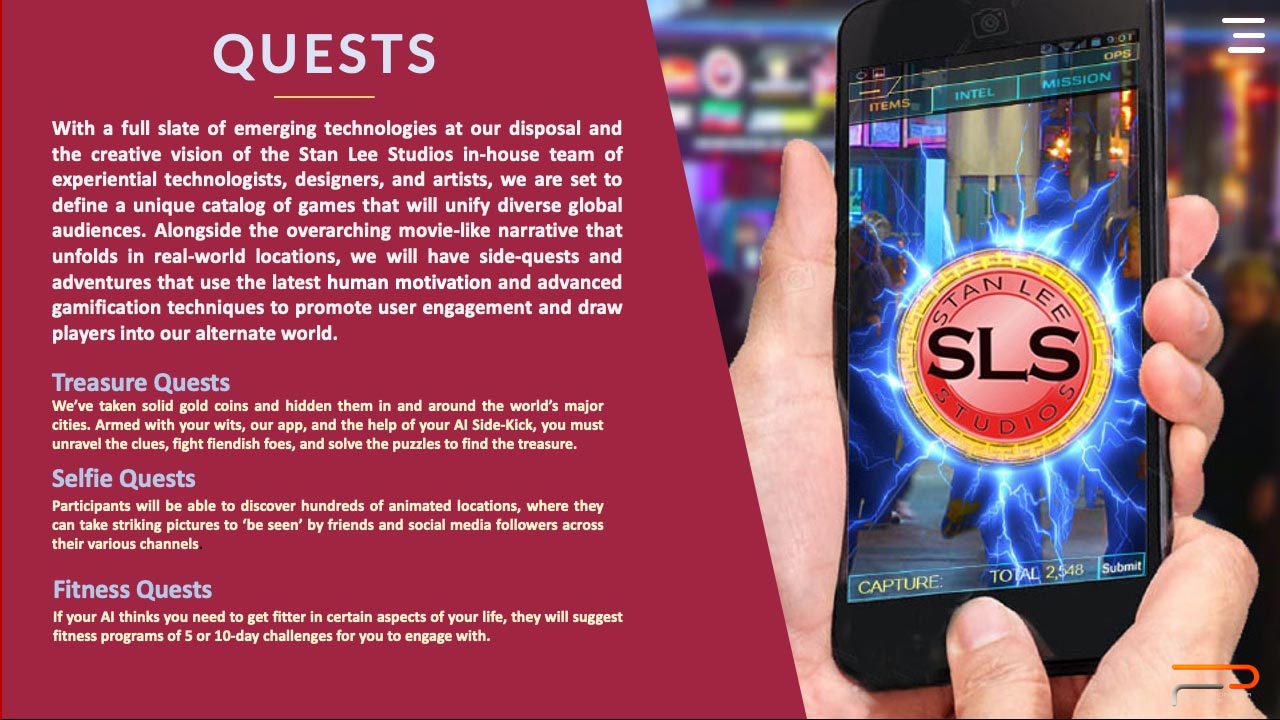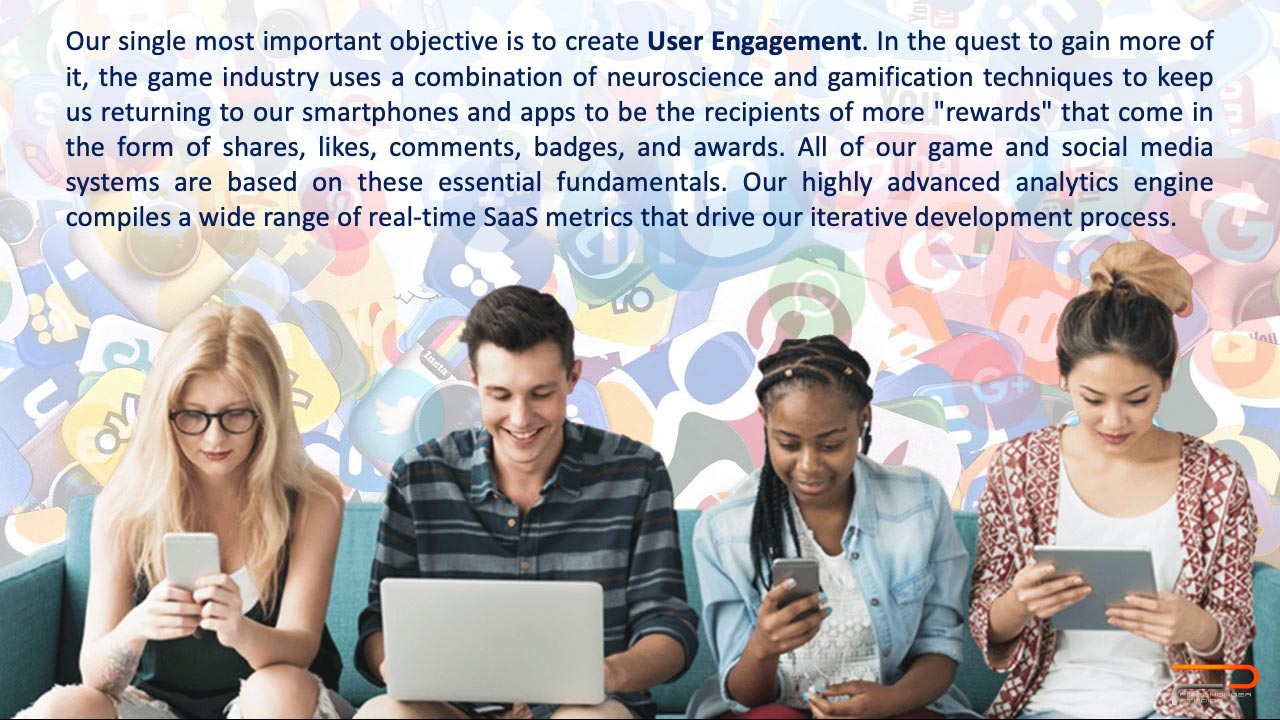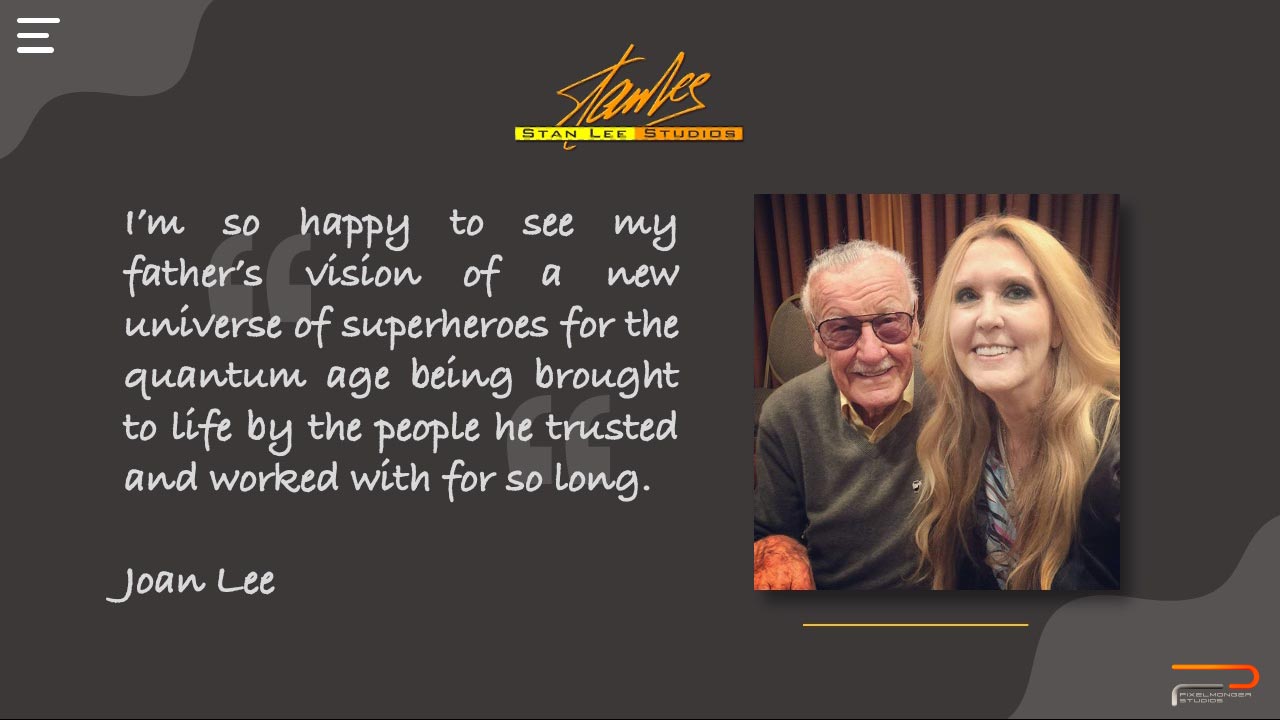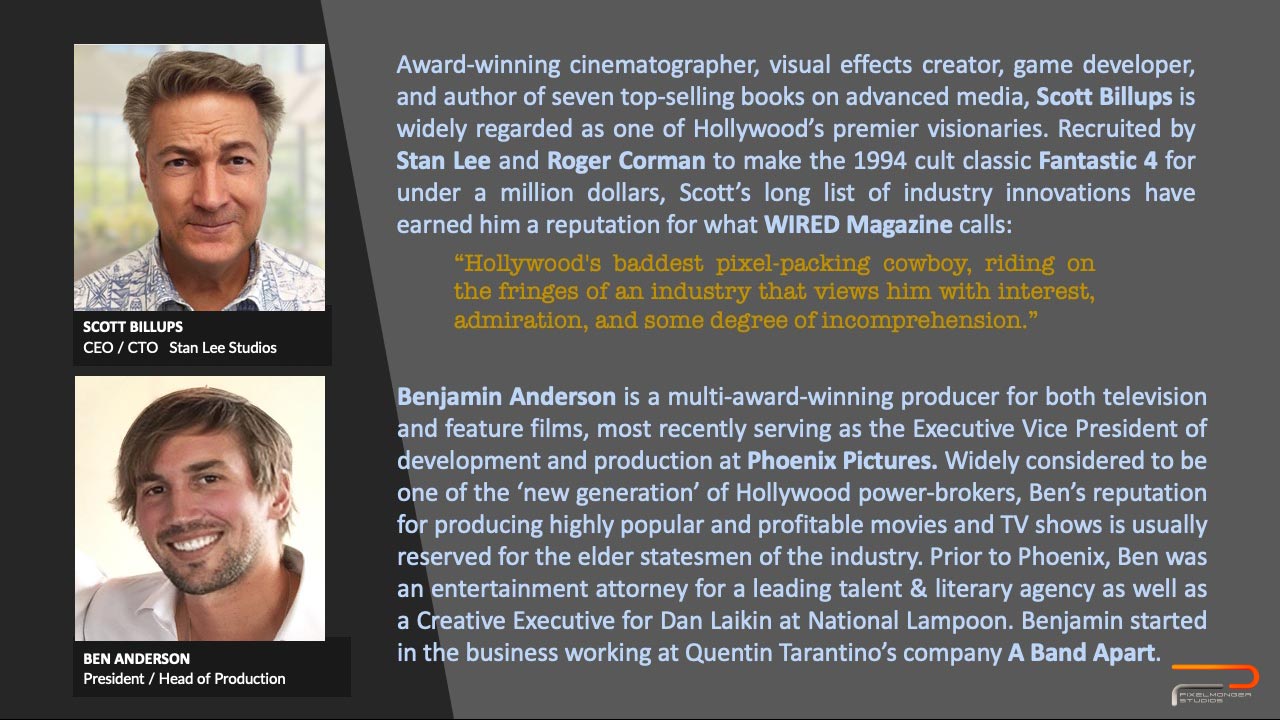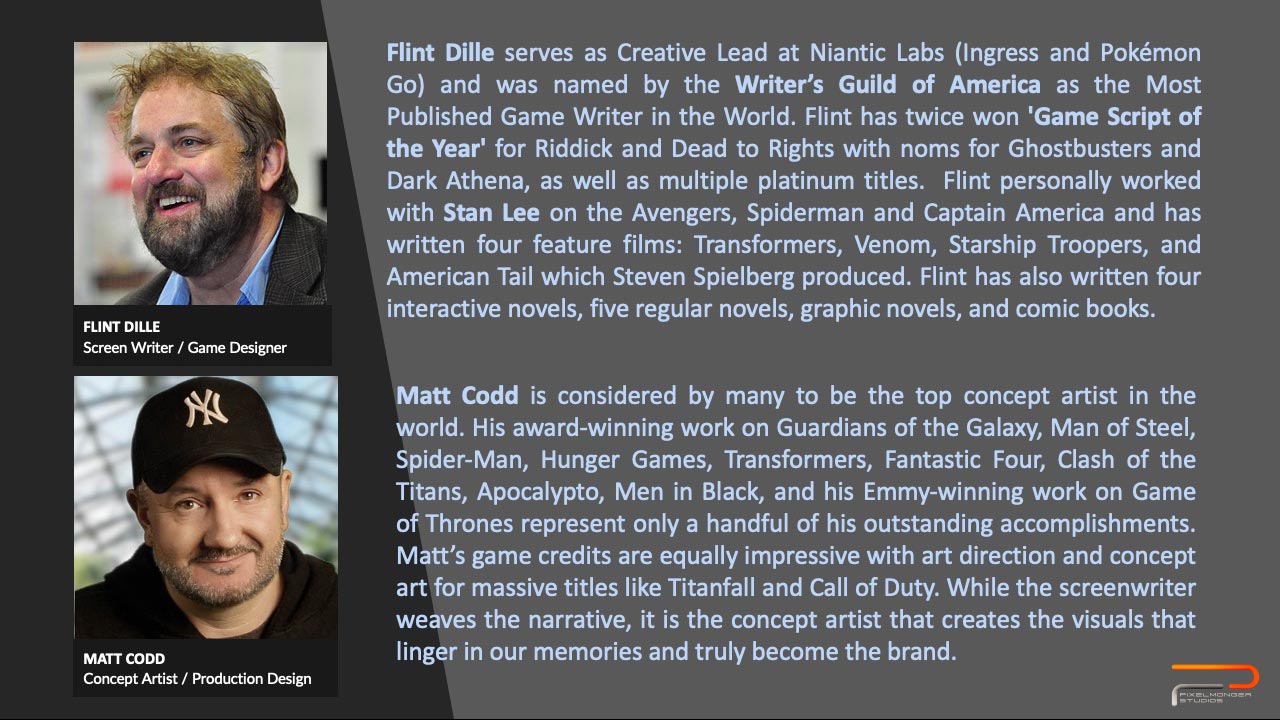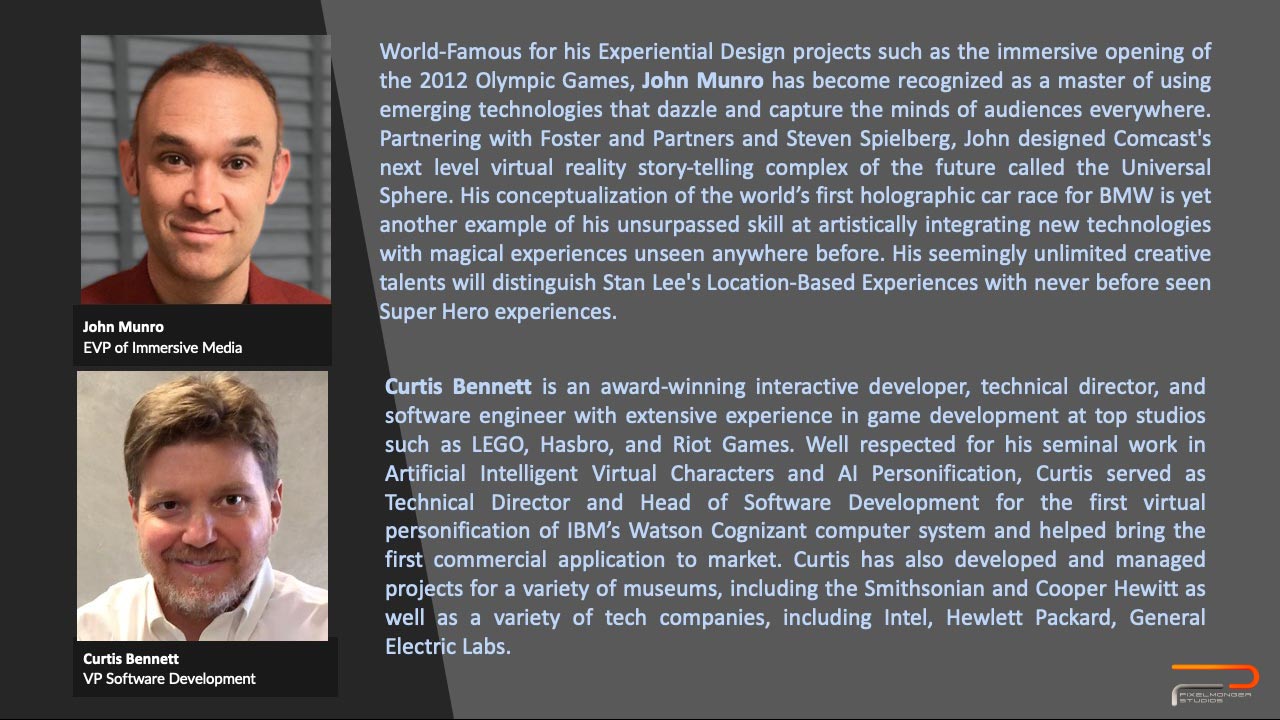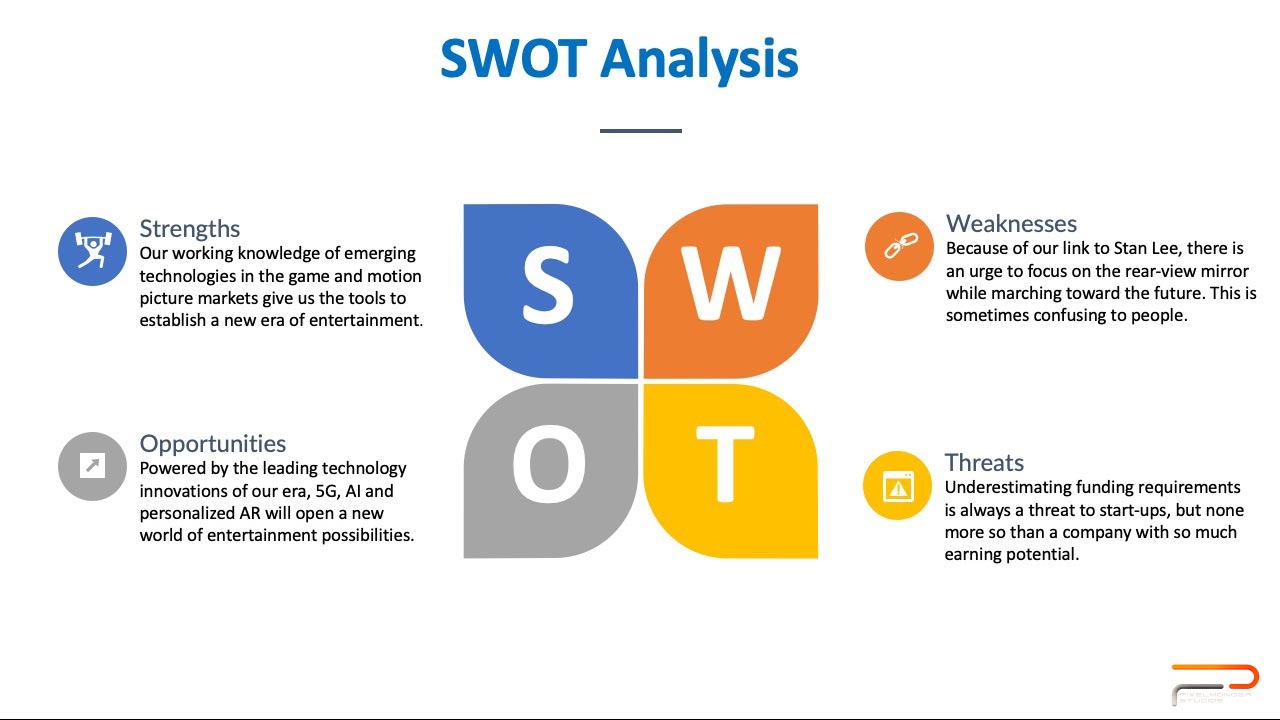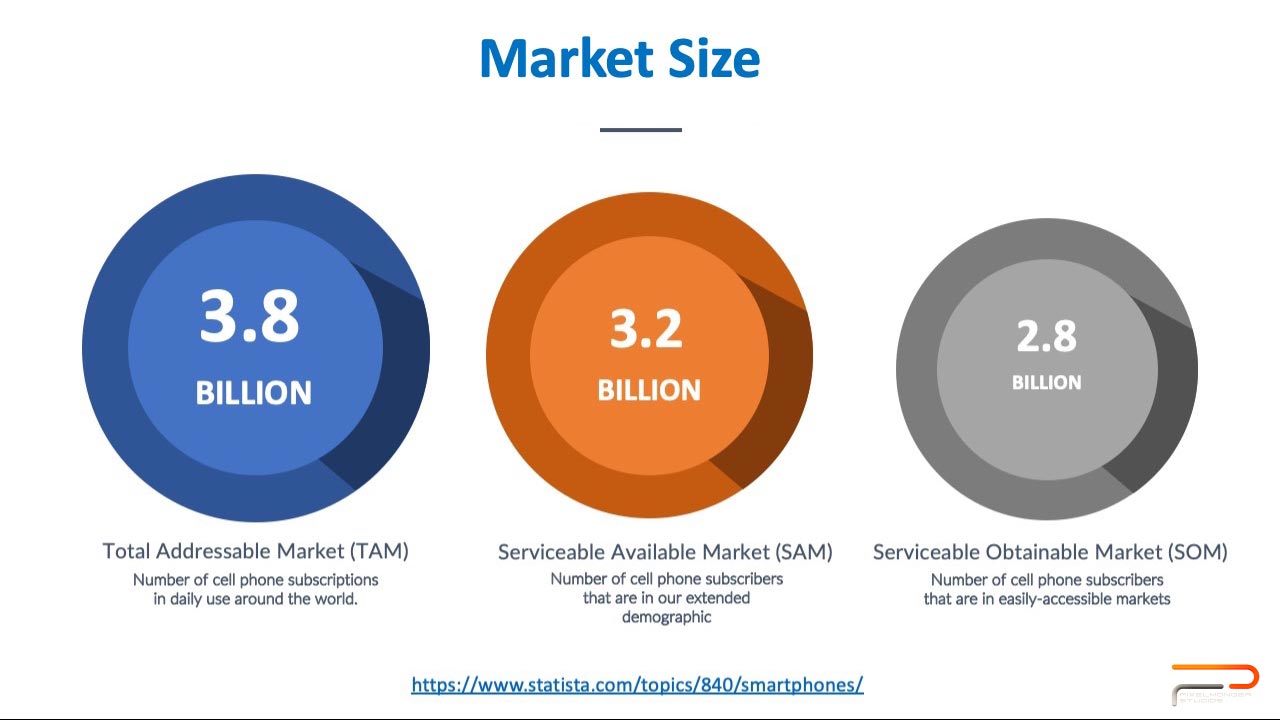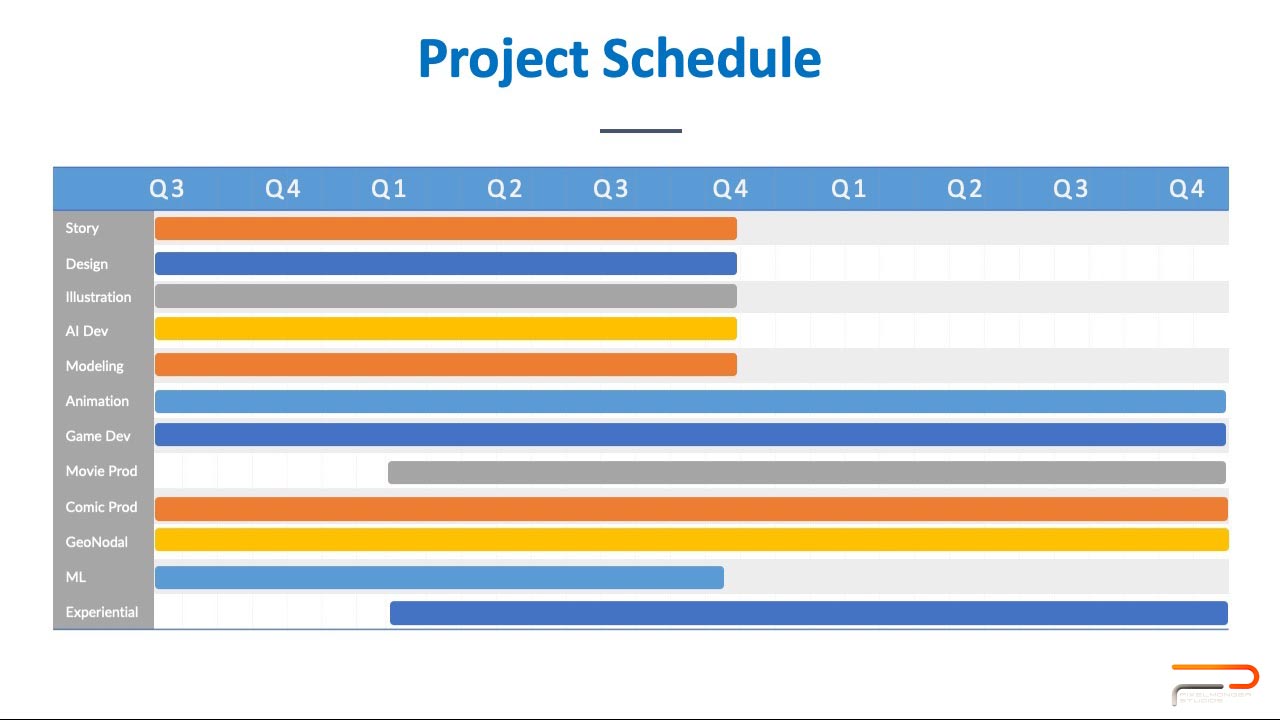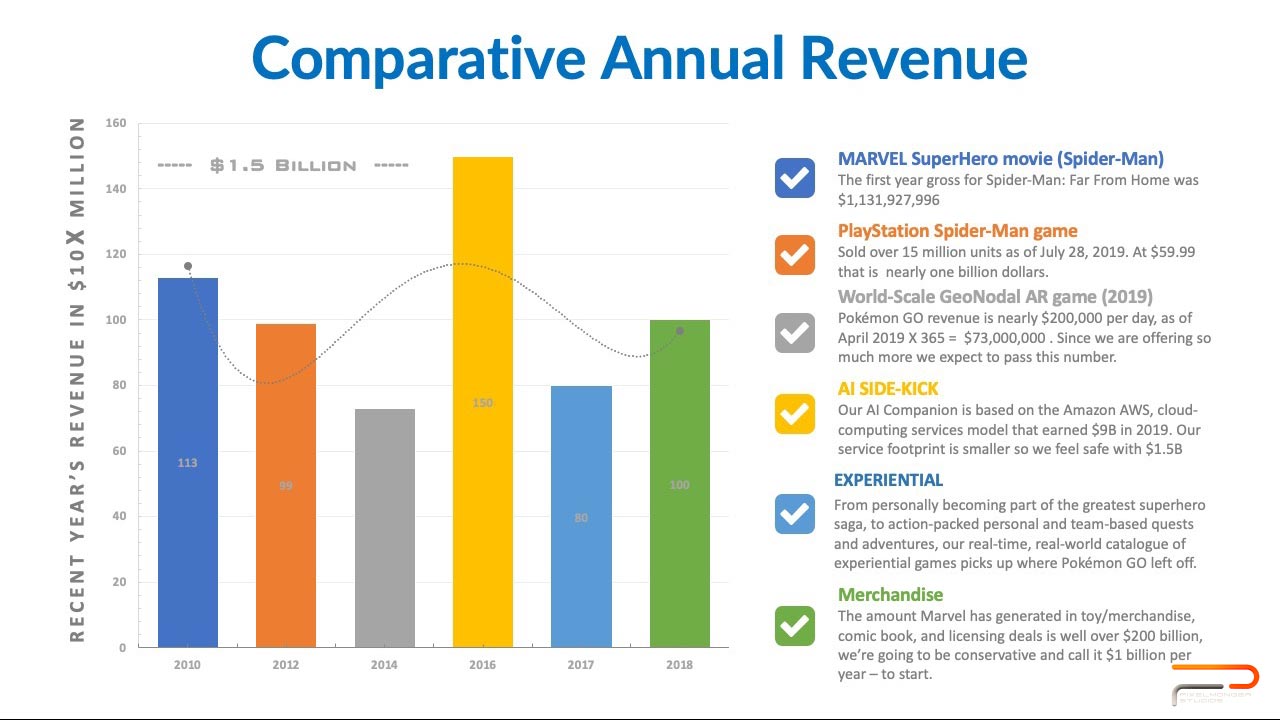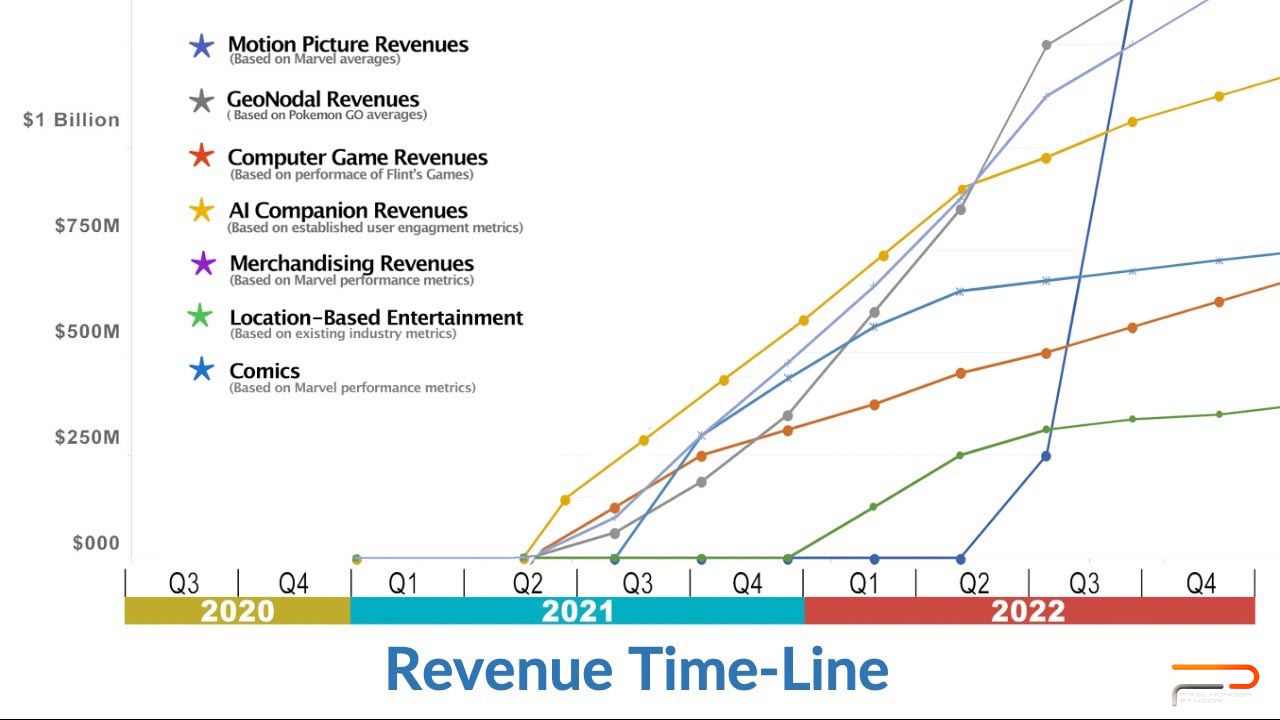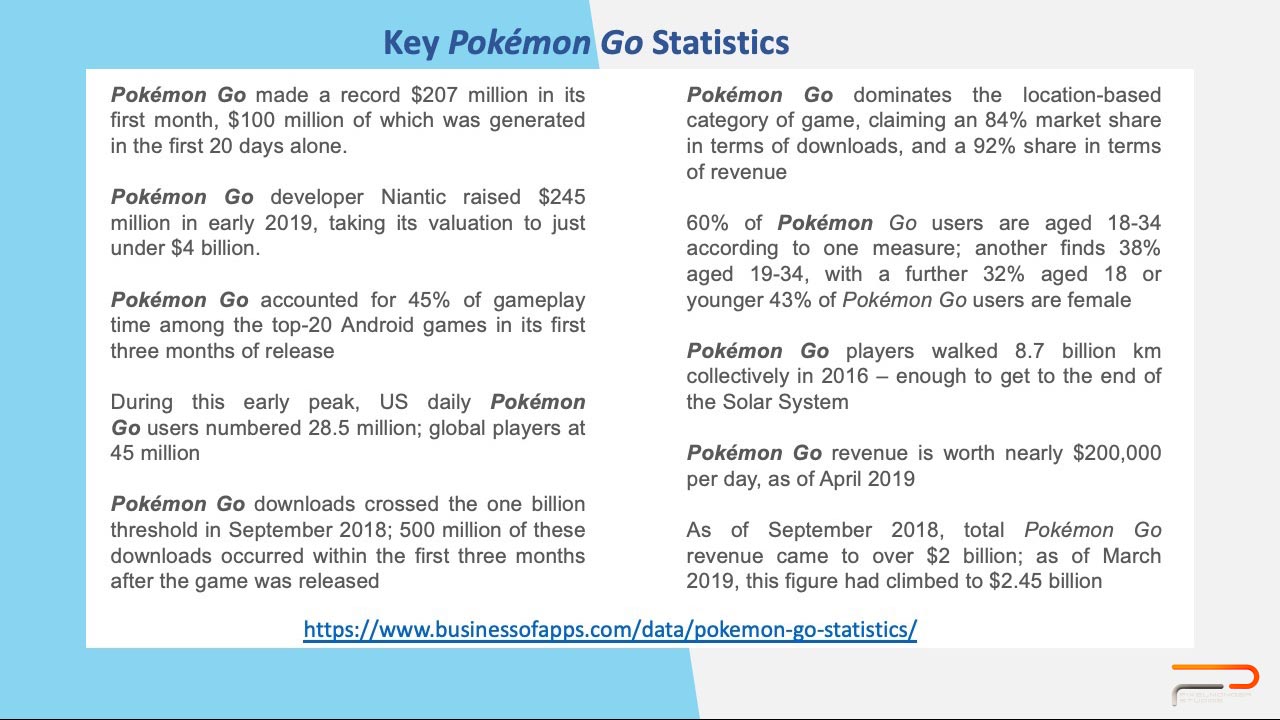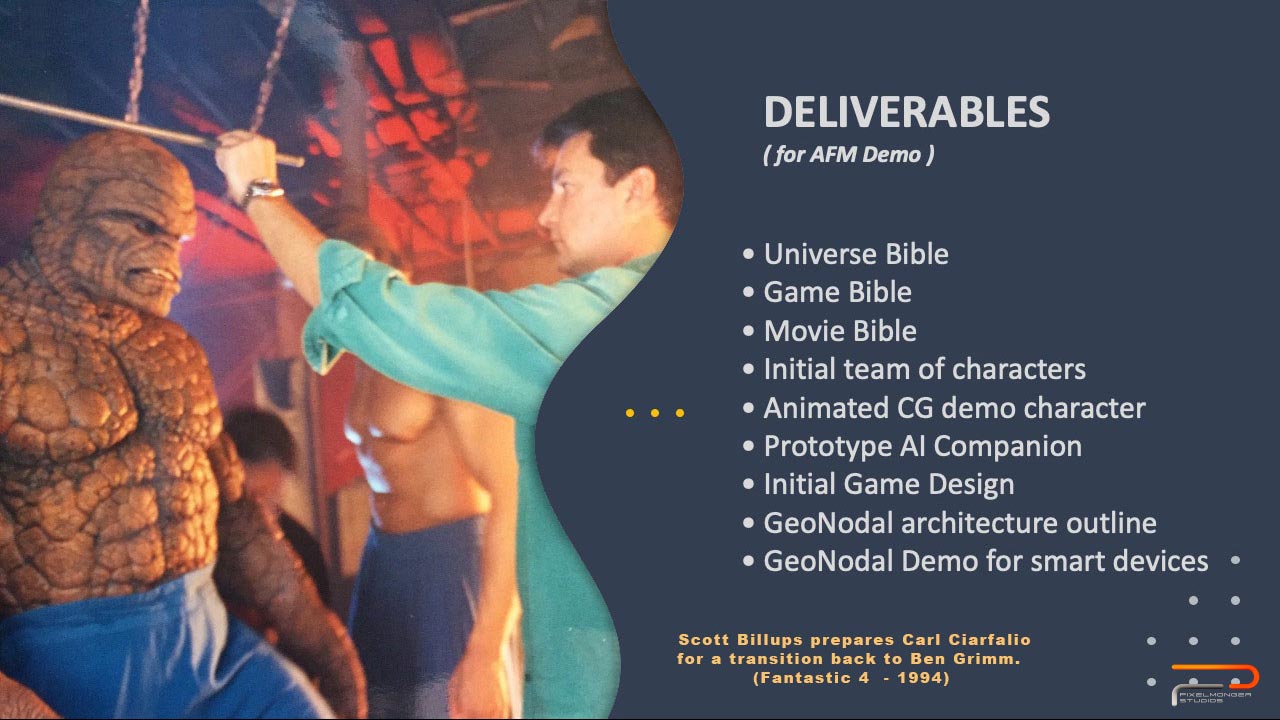 ---
Scott@PixelmongerStudios.com
Copyright © 2020 Scott Billups - All rights reserved.